OUR WORKING SPACE
At the heart of Athens
The residence of the company EPIKYKLOS is located in the heart of Athens, at the intersection of Academias and Kanari streets in a fifteenth-century urban block of flats.
We love the old buildings of the city that highlight our history and identity while honouring the dynamics and value of evolution. Our professional working space could only be a living proof of our work and of those we stand for.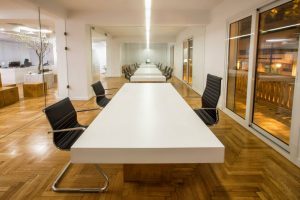 The headquarters of EPIKYKLOS is a headquarters of employees to which every company's external activities are rooted and from which every day comes. This is also reflected in the way space is structured as the public and the private space mix together, demonstrating coexistence and association relationships for both workers and visitors.
EPIKYKLOS
When people meet,
something special happens
In the company, we believe in live communication because when people meet, something special happens. We have, therefore, created the ideal conditions for our people to communicate and exchange ideas, to enhance fellowship and the common vision and thus to promote innovation and creative thinking. Different tactics are intertwined in order to break the boundaries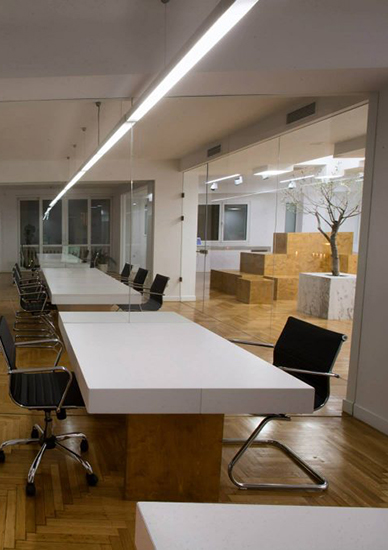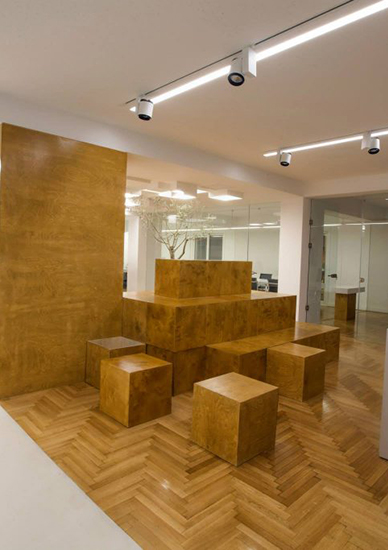 Different tactics are intertwined
in order to break the boundaries
Space has a natural flow in operation and use, with 3 main cores: meeting rooms, engineering offices and secretariat. Preeminent spaces have a more or less defined use that changes depending on the circumstances. It is a truly continuous space that creates other sub-levels through the differentiation of the floor and ceiling or the placement of free objects. Differential tactics are intertwined from space to space in order to break the boundaries and make the transitions ambiguous and flowing. This deliberate roll-out of one space in the other is that serving the company's operating structure and reflects the experience of continuous flow and flexibility as experienced by workers and visitors.